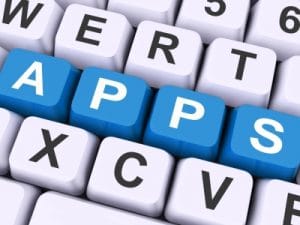 I'm not sure it's ever been easier to set up a business than it is right now. We've seen an explosion of business apps that are helping to revolutionise the way we work, helping us to share easier, be location independent and more productive. Even better, most of them have free packages ideal for cash-strapped start-ups looking to bootstrap their way to success.
It's fair to say we've been through our fair share of apps over the last 10 years and we've seen apps come and go but we often get asked what apps we use as a business so I thought I'd put together a list of our top 10 favourite apps right now at Invoco HQ. Cue Alan Freeman-style top 10 countdown music….
Ok, so this is a very well known app so I thought I'd get it out there early. For those of you who don't yet know what Dropbox is (where have you been hiding??), it's essentially a hard drive in the cloud that can be shared with multiple users over multiple platforms making the sharing of files between teams very easy. Our tech guys tend to use Windows PC's and Android phones whilst our sales and marketing team prefer Macs and iPhones and Dropbox allows seamless synchronisation of files between us all. The simplicity in the way Dropbox works belies the underlying complexity and having tried a few other solutions, this is quite a feat.
The free plan will give you 2Gb of storage and the paid plans start at just £7.99 per month. Peanuts. It also integrates with a wealth of third-party apps including ours. For example, we push invoices, call recordings, call records and weekly reports automatically into our clients Dropbox accounts so they've got all of the information easily to hand for when they need it.

Evernote is a great app for dumping all of your notes, images and web content, again synchronised across multiple platforms. Organising your data is very easy with Tags and Notebooks and it's all globally searchable, so it doesn't matter where your notes are stored in the system, you'll be able to find the note you're after with minimum fuss. It will even search for text within documents and images (on the premium version)!
Now that Reminders are available you can even use Evernote as an effective task management system, (David Allen of Getting Things Done fame has a guide on how to use Evernote and GTD) but I must admit I tried it and ended up settling with something else.
The free plan is sufficient for most small business but even the Premium plan works out at less than £3 per month.

If you use social media a lot for your business or are planning to then Hootsuite is a must. It's a great dashboard for aggregating your various social media profiles and dealing with them all in one place. If you're not a full-time social media person, then you really need to be careful about how much time you spend working on it as it's very easy to get completely immersed in it and losing huge amounts of time. Cat videos get me every time, and if you're prone to procrastination then social media is a great opportunity for world-class procrastination.
The reason Hootsuite is one of our top business apps is that you can plan and schedule posts throughout the week to automatically go out at specific times. Great if you're at a conference or an event that you want to get people to come to and talk to you without having to gaze down at your phone several minutes at a time sending tweets on the fly. The other great thing with Hootsuite is that if dealing with social media posts is a team responsibility then you can assign tweets or messages to team members to deal with, almost like a trouble ticket system and is particularly good if you're outsourcing some or all of your social media activity.
If you have fewer than 3 social media profiles and don't have any team members then the free version is all you need. Otherwise, the pro plans are less than £10 per month.

As a trained project manager I've used many project management tools over the years and there are pros and cons for most applications. There are some great cloud-based project management tools out there at the moment….. Asana, Basecamp, Pivotal Tracker and Teamwork to name but a few and I've tried them all. When I'm doing some project planning just for my own personal projects I often use Asana but I've found that members of my team who only need occasional interaction with Asana have found it a bit intimidating and have shied away from it which isn't conducive to the successful completion of projects.
Then I came across Trello. If you're not doing very complex projects and don't need critical path analysis, resource estimation and all that fancy stuff that project managers get hot under the collar about then Trello might be for you. Trello is a really simple tool designed to help your team get things done. It's very visual and dead easy to understand. Simply create a project board, add a list and then add cards (like post-it notes) to the list. Team members can comment on each card, upload attachments and create checklists among other things. Trello's list of integrations are increasing by the day, including Zapier which is my integration tool of choice, so although it hasn't been designed with automated workflows in mind it can be used in this fashion by integrating into other systems that drive this activity. More importantly, the team love it!
Trello is free forever for the basic functionality, which is fine for most small businesses I'd imagine, and the business subscription starts at around $8 per user per month.

A good trouble ticketing system is essential for any service organisation to ensure that all customer issues are captured, that there is a consistent response and that management has a good overview of what's going on in the customer service environment. The thing that attracted me to Freshdesk initially was its great starter pricing (it's free for up to 3 users) and the fact that it conformed to my old-fashioned notions of what a trouble ticketing system should do, i.e., it can be email driven, it creates tickets that can be assigned to a queue and allocated to individuals to resolve and has a journaling capability which tracks everything that's going on with that ticket. In addition to that, it has a basic knowledge base capability that is used by the team and customers alike.
It has some areas which need improvement but it's been around for about 5 years now and is getting more polished by the day. The number of native integrations is increasing all the time so it's morphing from a decent standalone system to an application that can be integrated into all of our core systems – one of the top business apps!
Check out Part II for our top business apps…..