After last month's bumper update, we've only got one new feature to tell you about this month….but it's a good 'un!
I think we would probably have finished off more new features this month but we had particular problems naming this new feature. In any event, this new feature will only be of relevant to you if you're using our Hosted PBX VoIP product.
So, this feature has the rather snappy title "Real-time look-up into third party application and presentation of contact name on phone display for incoming calls". Genius. Honestly, I think our marketing team have been watching too many dog videos this month.
So what does it do?
Hopefully you're already aware that it's possible to link your Invoco account to a range of different applications like Salesforce, Infusionsoft, Capsule CRM, etc? (If not, check out our integrations page to see if we can link to your apps.) Once you've linked your Invoco account to your favourite app, we can now do the following:
1. On receiving an incoming call on your Invoco number, we'll do a real-time lookup into your app and try to match the caller's number to a contact.
2. If we find a match, we'll change the message sent to your phone so that it displays the name of the caller.
3. If we don't find a match, we'll display the caller's number as usual.
Simple, but really, really cool.
How to set it up
Once you've connected your Invoco account to the required app in the integrations page in the portal, you can turn this feature on by going to Settings, clicking the Other tab and then selecting CRM Lookup.
If you have one connected app, there will be a simple toggle button to turn this feature off or on, but if you have multiple connected apps then there will be a dropdown as shown below to select the app required. This feature can only work with one app at a time.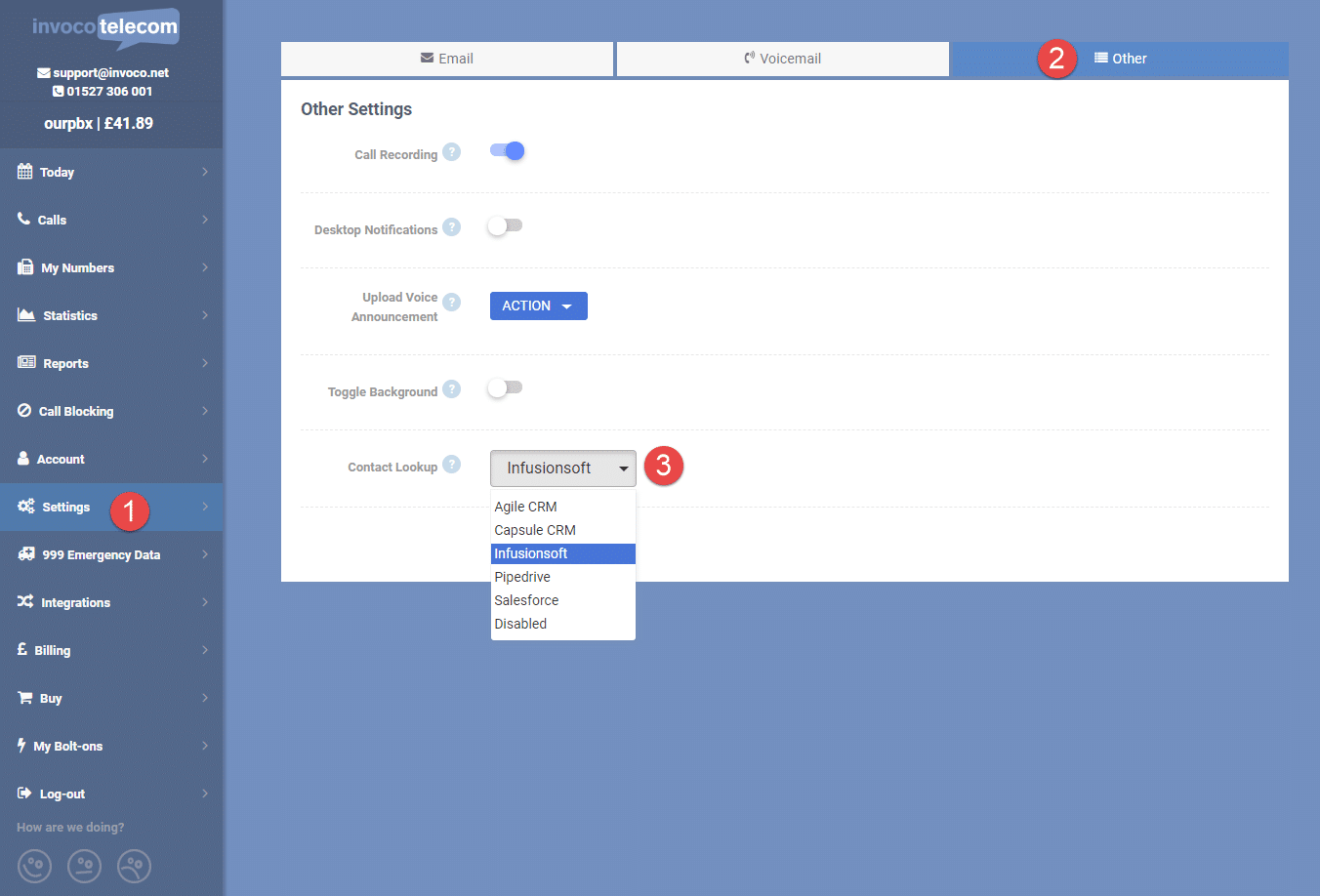 Hopefully you'll find this incredibly useful…I know I do! Oh, and if you can think of a better name for this new feature please let me know!

Jez