If you have a support team in your organisation you'll know it's a tough job delivering exceptional customer service. A common frustration for people calling into a helpdesk is having to spend time holding on the line whilst the support agent creates a ticket, ticks various boxes, select various drop-down options and enter a description for the problem. It's a clunky process.
Here at Invoco, we encourage our support team to try and resolve customer issues as quickly as possible, preferably on the first call, and to make the whole process less stressful and time-consuming for the customer. This means dispensing with the standard process of noting down customer information and creating a support ticket before actually trying to help the customer with their issue.
I believe this approach gives customers a much more personal experience and leaves them feeling wowed. At least that's what we're striving for.
But hold on a minute…..creating support tickets is really important for measuring the performance of my team and our products!
Totally agree and ideally, the support agent would create a ticket retrospectively and enter the relevant information. But we know this doesn't necessarily happen. The next call comes in and the support agent gets sidetracked helping the next customer. So what to do?
Well, how about if a call to your support line automatically created a ticket in your helpdesk software? This is where our integration with Zapier can really help out.
The example below shows how we can set up the automatic creation of tickets into our ticketing system, Freshdesk, in just 2 easy steps. Whilst we're using Freshdesk in this scenario, the process would be the same if you're using Zendesk, Helpscout, Desk or any of the other support applications available in the Zapier app directory.
Not running a support desk? The process would also be the same if you're adding notes to your CRM, creating sales leads in your Sales Management software, etc.
1. Create a new inbound call trigger in Zapier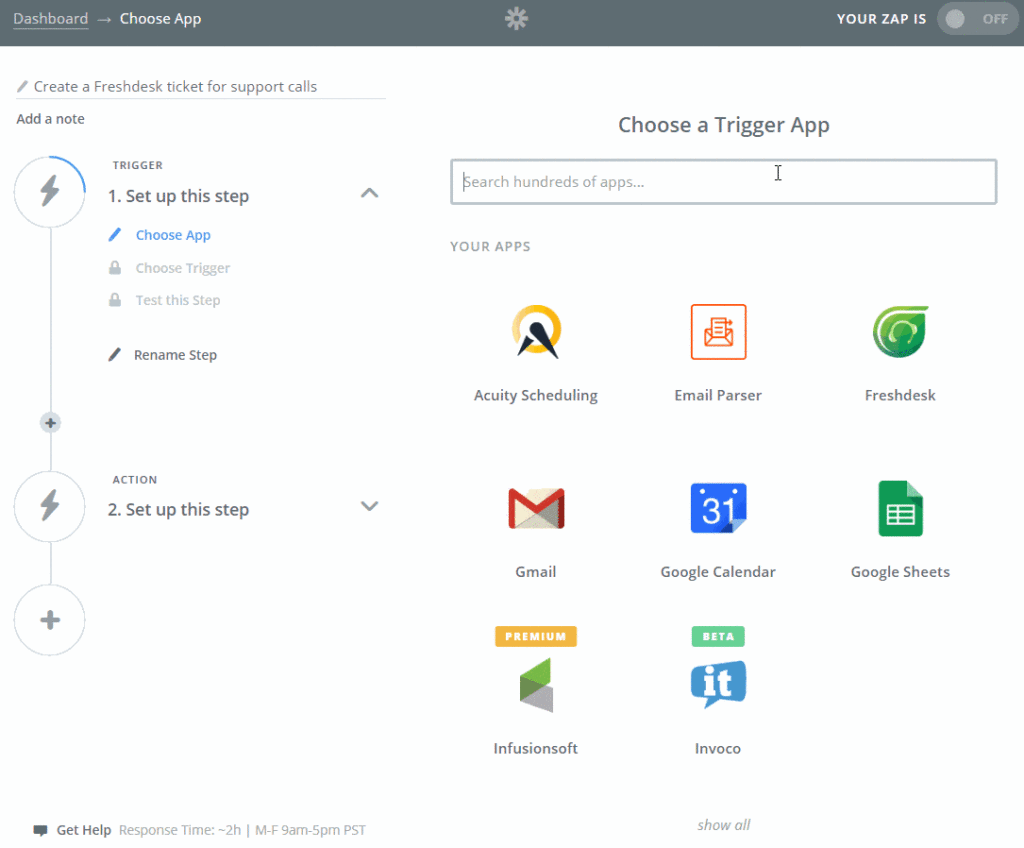 2. Create an action in Zapier to create a Freshdesk ticket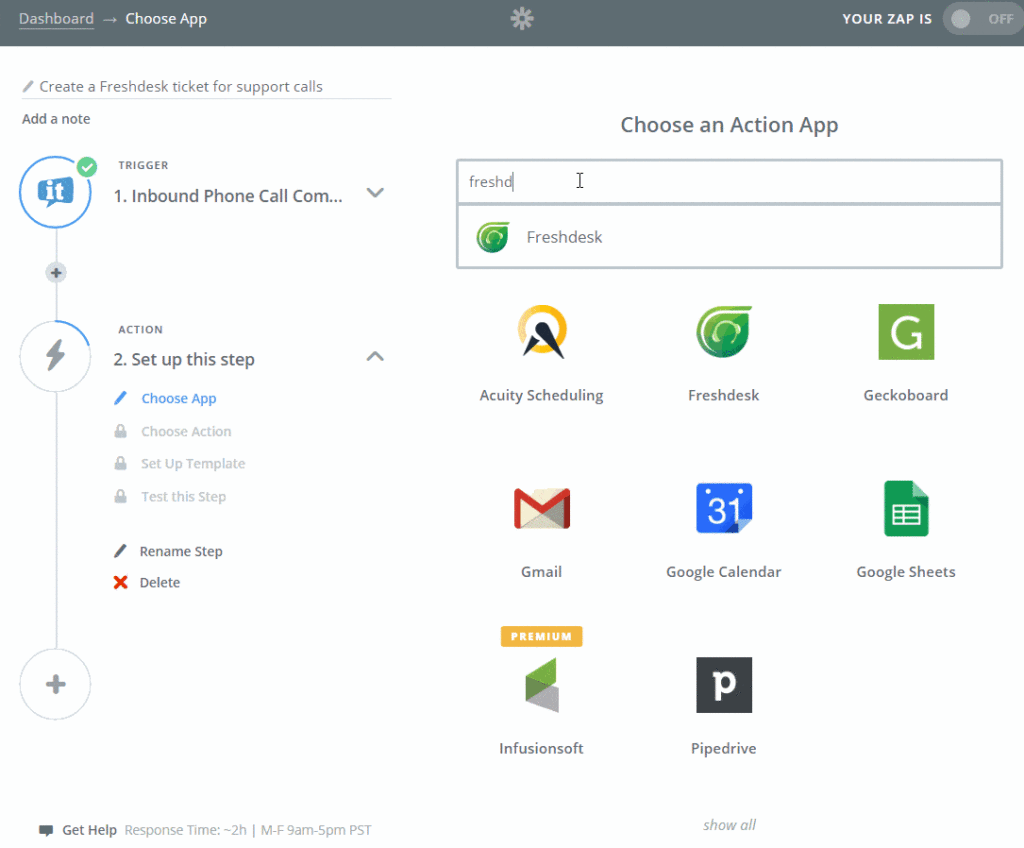 And that's it….all done. New tickets are now being created…

What if you have multiple telephone numbers and you only want tickets to be created for a specific number?
No problem…..this can be done very easily by creating a filter between the Zapier Trigger and Action. In the example below, I only want tickets created if our support number (01527 306 001) is called: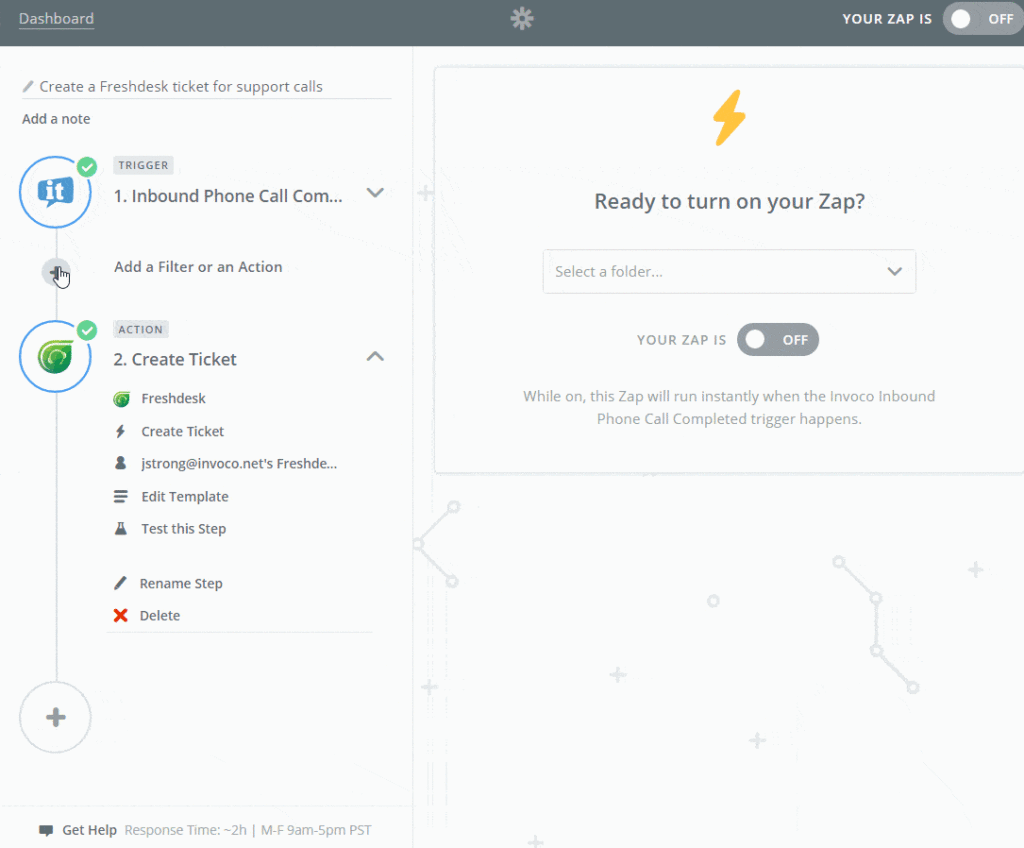 Now tickets are being created for every customer interaction with nothing slipping through the cracks.
If you'd like to explore what you can do with our Zapier integration or other helpdesk software and would like some advice, just drop an email to our support team: support@invoco.net
UPDATE: There's no need to use Zapier to connect Invoco and Freshdesk anymore as we now have a direct integration. However, the above method is still relevant for other popular ticketing systems such as Zendesk, Helpscout, etc.