How to find out what your redirection costs are based on the number you're diverting to.
We like to keep costs as transparent as possible, and this includes redirection rates – this article will show you how to check what your redirection costs are going to be, depending on what virtual number you have, and where you're redirecting it.
---
Step 1
Locating the 'Redirection costs' feature


Navigate to the My Numbers section of your Invoco Portal and click on to the 'Redirection Costs' button.
https://portal.invoco.net/mynumbers
---
Step 2
Using the Redirection Cost Feature

We've made this tool nice and easy to use, simply enter your divert destination and click 'View Redirection Rate'. For example, if you search an 01/02 Geographic landline number;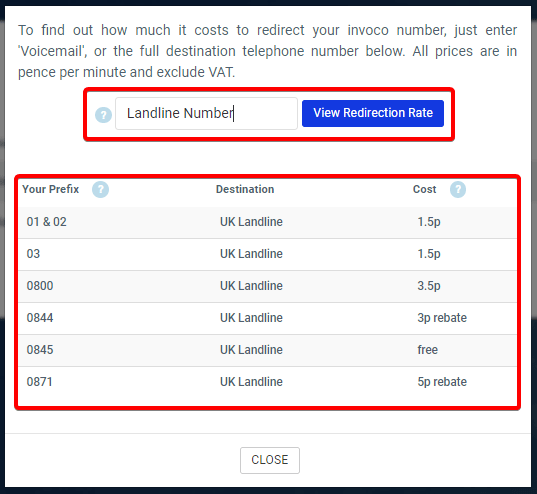 You'll receive the redirection rates for that destination depending on the type of virtual number you have… Using this example, if you have an 0800 Invoco Number and divert to an 01/02 Geographic destination it will cost you 3.5p per minute.
---
If you have any questions, please don't hesitate to get in touch with our support team.
01527 306001 support@invoco.net