After listening to feedback from customers about what they find useful about the weekly reports and what else they'd like to see, we've made some changes which we hope will make the weekly reports even more useful than before. So here's a quick summary of the changes:
Inbound and Outbound Call Statistics
The first thing you'll notice is that the report now covers outbound calls as well as purely inbound calls, so customers using our Hosted Telephony services now have some useful stats on their outgoing call behaviour.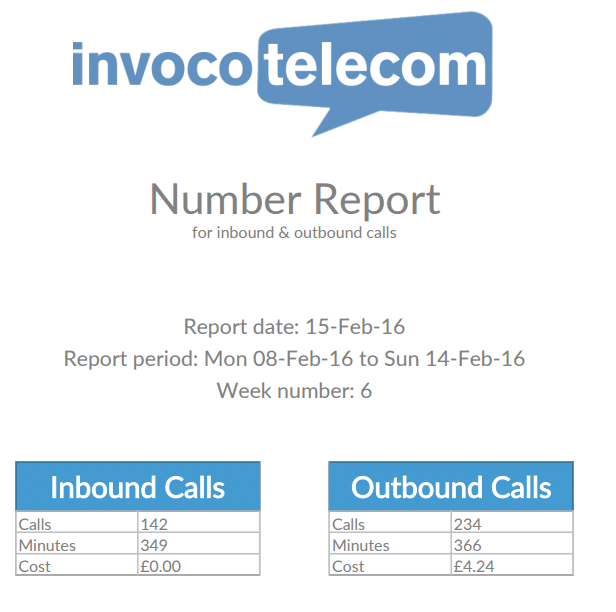 For those of you who are using your virtual numbers as a way to track your inbound leads (aka call tracking), one of the things you've been asking for is the ability to track unique inbound callers. Why? Equating the number of inbound calls to the number of inbound leads is overly simplistic. If one of the callers calls more than once then the statistics end up being skewed.

In the above example, we can see that the total inbound calls on the Office IVR number are 73 which might lead us to believe that we've had 73 leads from a particular piece of marketing. However, the number of unique callers is 49 which is a more realistic figure.
Being able to determine the source of the call, particularly for incoming calls, is very useful for those of us who doing mobile-specific marketing.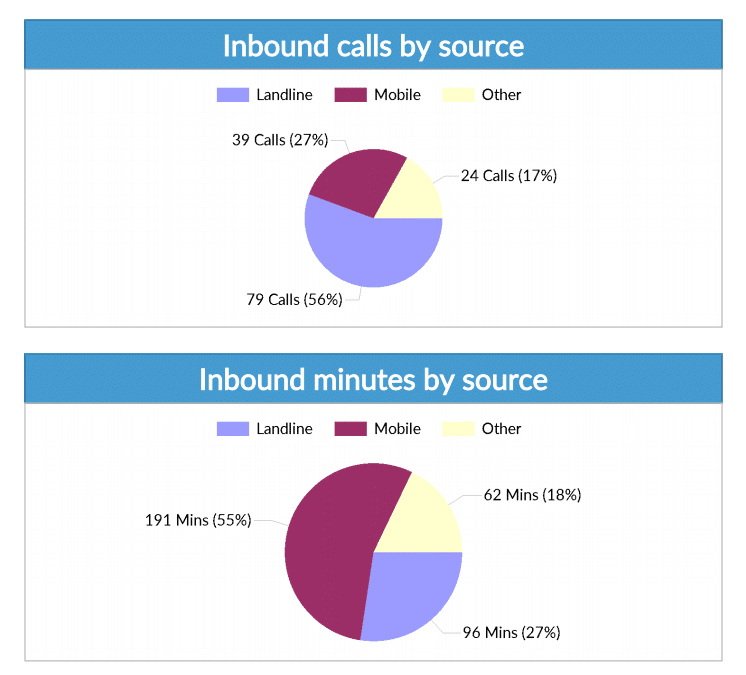 Statistics for each number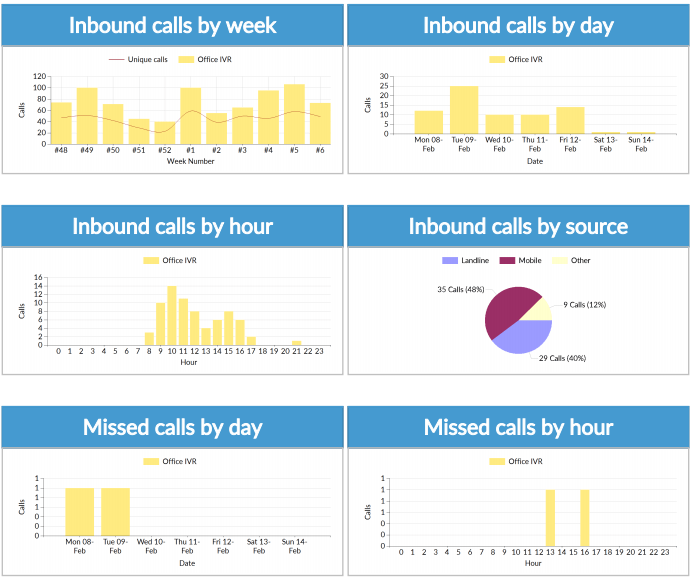 Each virtual number on your account now gets its own statistics page so you can get a quick and comprehensive snapshot of the call data for each number including:
Inbound calls by week – See how the weekly call volumes (and unique calls) compare over a 12 week period
Inbound calls by day – What days are you receiving your calls? If you're missing sales leads at the weekend perhaps it's worthwhile getting some cover on the phones, whether it be internal cover or potentially outsourcing to a call answering service?
Inbound calls by hour – Likewise, if the office closes at 5 pm but you're missing sales calls in the evening then perhaps extending the office opening hours would be a good option.
Inbound calls by source – Shows the split between landline calls and mobile calls. Other calls would cover everything else from non-geographic, international and withheld numbers.
Missed calls by day/Missed calls by hour – If you're paying for inbound leads then the last thing you want to see is missed calls. This will help you determine if you need to beef up your inbound call handling capability or possibly overflow your calls to a call answering service during busy periods.
Probably one of the most requested changes to the report. Now there is a whole section devoted to missed calls so you can see what time of day and what day of the week you're missing most calls.
You can now see all of your previous reports in the same place. To do this go to My Portal, select account and then select the new tab Reports.
Excluding numbers from the report
If you have a lot of numbers in your account, the report is going to be a lot longer than before. As well as the seven summary pages (ten if you're using us for outbound calls), each number will have its own page. However, you may not be interested in the detail for all of the numbers in your account, particularly if some of the numbers are dormant. If this is the case you can exclude those numbers from the report.
To do this, go to the Reports tab, select the number you want to exclude from the drop-down and then hit the Exclude button.
To re-introduce the number to the report just click the excluded number button as shown below.

I hope you like the new reports and if you have any feedback I'd love to hear from you.